We have spots available!
Real shade, baby!
Shady Oaks RV Park is located in Dallas, Texas. Approximately 18 minutes from Downtown. We are right off HWY-175 and Edd Rd. We offer full amenities including 20/30/50 AMP with water and sewer hookups to accommodate rigs small and big. What sets us apart from 99% of RV Parks is out a tremendous amount of natural shade from the large trees that span the property. Come check us out and stay awhile!
Full Hook Ups
20/30/50 AMP, Water, and Sewer provided.
Shade
Enjoy the amazing shade this park boasts that no other park can offer!
Saftey
Shady Oaks boasts full privacy and gated entry! Safety is our top priority.
Wi-Fi
Free high-speed internet across the whole park!
Privacy
Private Cedar Fence 80x30 Lots! Unique to any RV Park.
Security
HD Security Cameras all around
Our Rates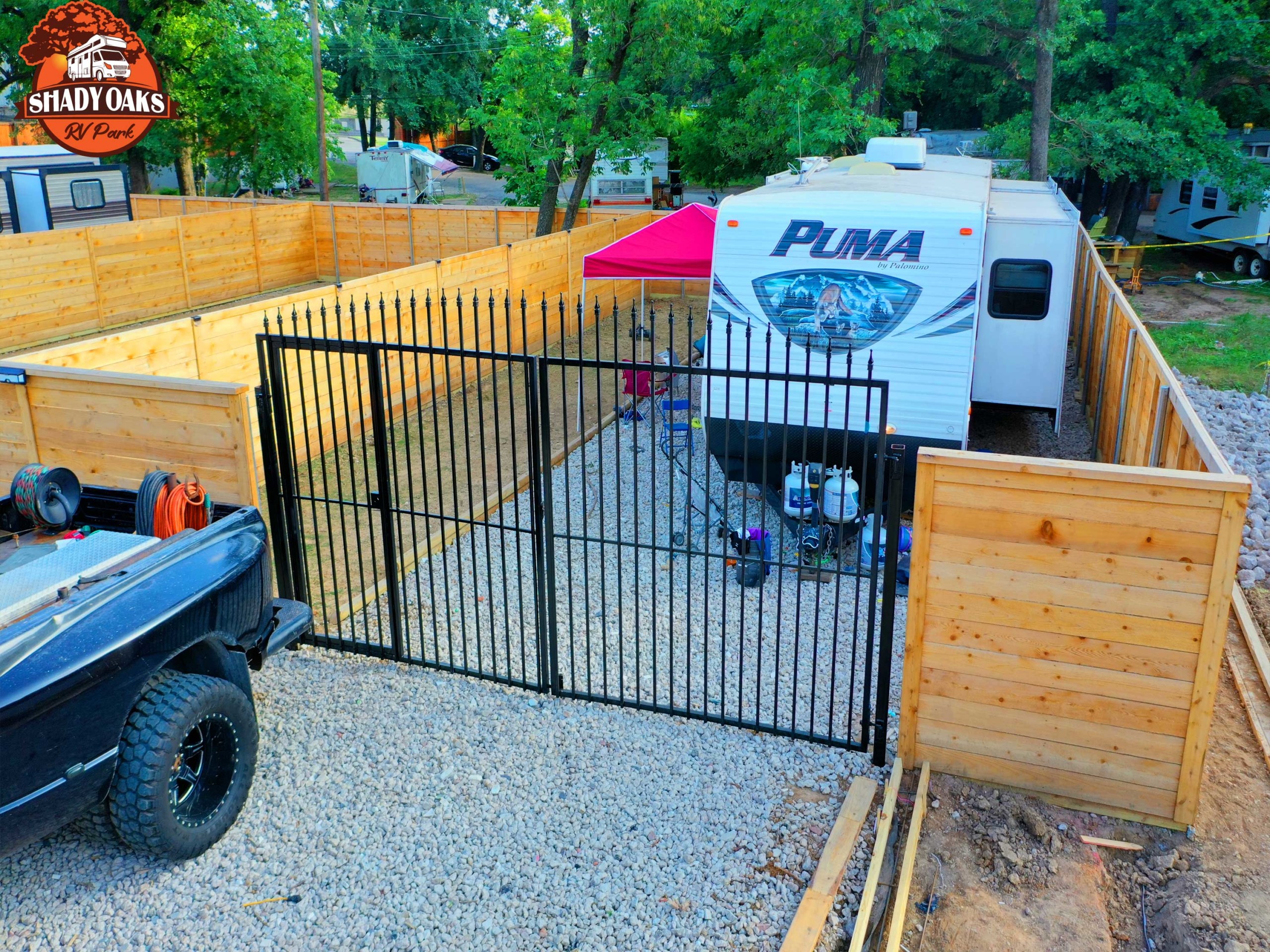 80x30 or similar size lots
Premium RV Pads
Premium Fenced Lots with Gates
Unique to Dallas, RV lots with 6ft cedar fences and entry gate to each lot.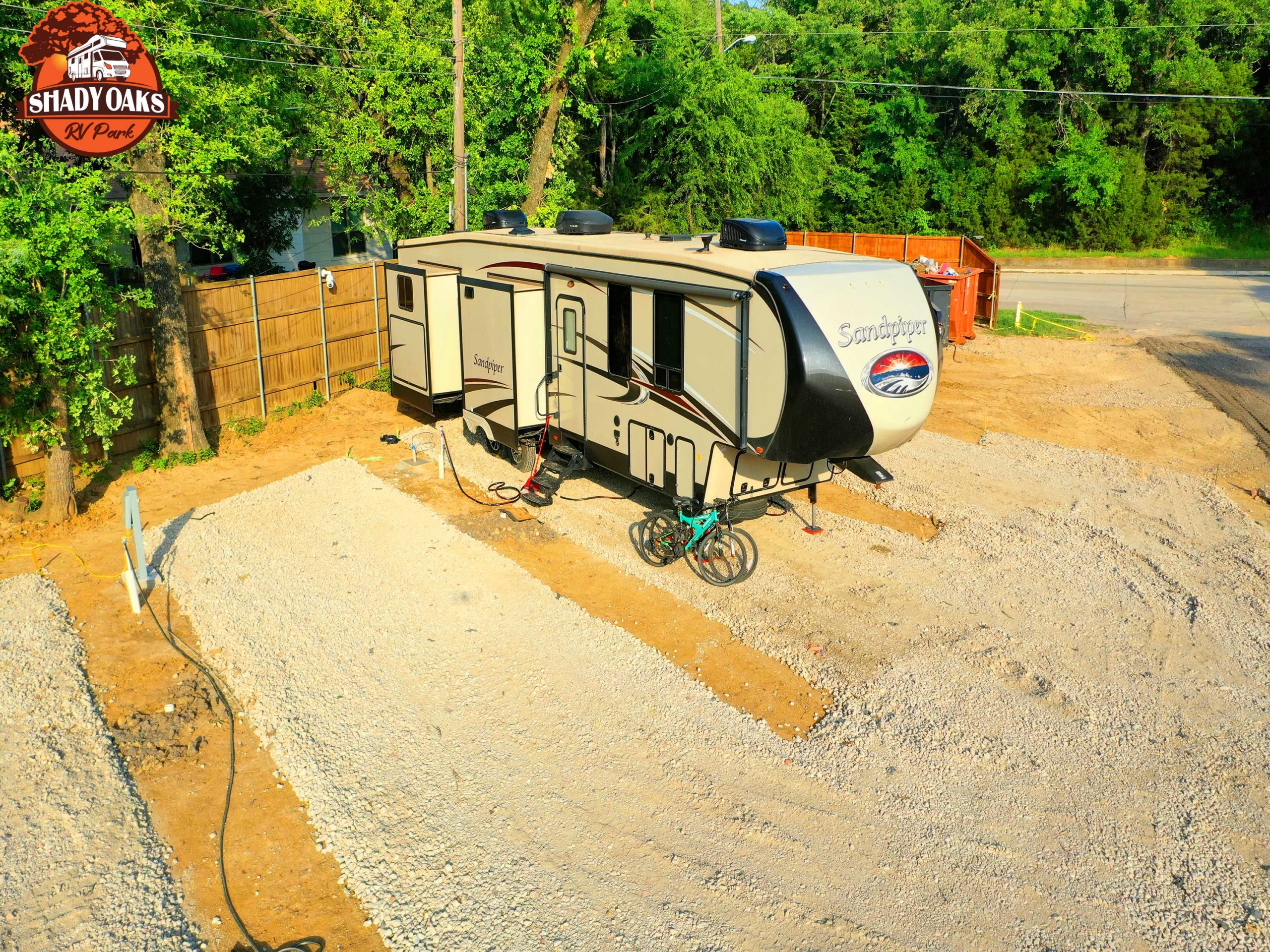 45 x 20
Regular RV Pads
Long-term and short term rates available
Come check us out at Dallas Shady Oaks RV Park! Our regular lots offer exactly what you would need!
Real Shade. Real Privacy.
Unique Long-term RV Living
|   | Daily | Weekly | Monthly |
| --- | --- | --- | --- |
| Regular Lots (Non Fenced) – Back Ins | $80 | $300 | $800 |
| Premium Fenced Lots (80×30) & (65×30) – Back Ins | – | – | $950 |
| Additional Guests (3+) | $5 | $20 | $100 |
| Additional Vehicle (3+) | $10 | $25 | $150 |
|   |   |   |   |
What Clients Say
testimonials
I was amazed to even get a spot here! Shady trees, mailboxes long term tenants, free Wi-Fi, and always felt safe walking around the park for exercise. I would come back again!
I along with my group of 4 travel trailers were coming in for a friends wedding! This spot accommodated our request to the T! We needed spots all next to each other and Bobby was very helpful and seeing that through! I recommend this park to anyone needing a spot pretty close to downtown Dallas!
We called all the other parks and they were all full! Surprised to have even found a spot here but i'm glad I did! Free Wi-fi and clean environment! Friendly owners and good people in this small community.
Our News & Events
read our articles
Are you and your family planning to visit Dallas? Look no further for our very own guide to Dallas' hottest local events, businesses, and other fun activities! Shady Oaks RV Park is well positioned to all the close Dallas entertainment districts! Sports Dallas Cowboys Stadium – 35 Minutes (Book your ticket, now!) Dallas Mavericks – 20 Minutes (Book) Texas Ranger's…
Welcome to Dallas' Premier RV Park – Shady Oaks! Come enjoy the amazing amenities and large lots! Oh, and the beautiful shade! We are located near HWY 175 and I-20. Address: 1911 Edd Rd. Dallas, Texas 75253